Alex Chamberlin - portrait artist
As a designer I am naturally drawn to works of design, art and architecture; this week I want to flag up the work of a very dear artist friend of mine, whom I'm so very proud of: Alex Chamberlin. I have watched Alex's art develop and evolve over the years and I feel it is at it's highest point to date. The British army recently commissioned Alex to paint a portrait of Capt Sir Tom Moore - a portrait that currently sits proudly in The National Army Museum in London. The portrait depicts the essence of Capt Sir Tom who captured all our hearts while raising over £32m for charity.
Our thoughts are with Capt Tom's family this week.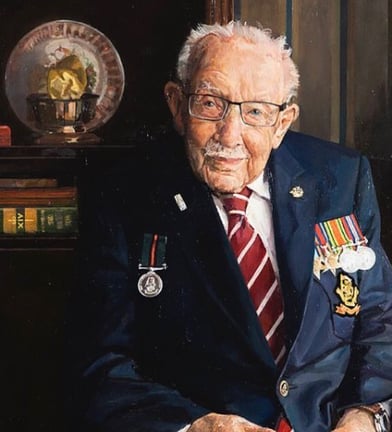 Capt Sir Tom Moore painted by Alex Chamberlin
Alex Chamberlin had the honour and privilege to meet and paint Capt Sir Tom Moore